Managers Word
The last twelve months has seen our organization stabilize into a very efficient and well organized team. Over the past year our sales and estimating ambition has been to introduce our new estimator Craig McAuley to all our existing customers and to focus on expanding new customers who also rely on quality products and services to assist their business operations in getting the job done on time and on budget. Fast and accurate replies to sales enquiries is something that we at Southern Cross Switchboards have worked tirelessly on to assure you that your best interests are at the forefront of our actions on a day to day basis. Our workshop floor is still vibrant and the post Christmas orders have already been coming in the door.
For our smaller contractors our credit card payment system is proving to be very popular and is providing them with better cash flows and less stress with their creditors. Switchboard packages $50k to $500k sector, where short lead times are required by our customers continue to be our best seller and our continued supplier market awareness is ensuring our clients are getting the best value for money products in their switchboards.
Ron Ryan
General Manager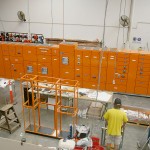 Our Staff Up Close & Personal
Craig McAuley has been the estimator for Southern Cross Switchboards since January 2012. This is after previously being the leading hand on the factory floor for the past 7 years. Craig's manufacturing experience has helped bring a hardnosed practical insight to the estimating & design team. At Southern Cross Switchboards, we believe the customer always comes first so let your fingers do the walking and contact Craig for your switch-board requirements. craig@scswitchboards.com.au
Southern Cross has over the last 18 months completed jobs at Ultimo Tafe, North Sydney Tafe, Queanbeyan Corporate Offices, Bunning's Balgowlah & Chatswood & numerous Telstra Telephone Exchanges. We are a happy team which can be reflected by the length of time our senior staff have worked for us.
The New SCS Ute
Southern Cross Switch-boards has invested in a new late model Toyota Hilux ute. The view is to better service the growing requirements of our customers whether it be for delivery or site work purposes. The events leading up to acquiring the new ute was quite interesting. For over 10 years Southern Cross Switchboards has been using a 1997 Toyota Hilux ute for delivery and site works purposes.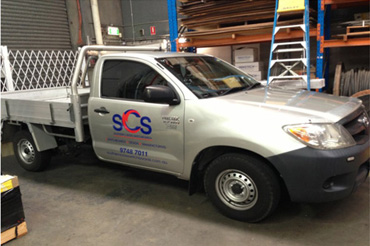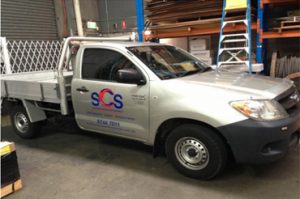 Paul O'Donnell, one of our Design Engineers did a delivery using the old ute and highlighted that we required a new ute as the old ute had deficiencies that were difficult to sustain.
The very next day, Ron Ryan our General Manager provided Jay Madhwan our Production Manager with a keys to the new SCS ute. Our officer manager, Kim Sparkes has since organized the sign writing on the vehicle. It was the first time that Southern Cross Switchboards has put sign writing on one of our vehicles. The general consensus within the organization is that the ute presents well and shows the type of quality and professionalism that we strive for day in day out.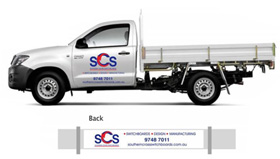 You be the judge. Our phone number is on the ute. If you see the ute on one of our delivery runs or on one of our work sites, give us a call. We would love to hear your feedback on it.
Inaugural Southern Cross Footy Tipping Comp
During the 2013 National Rugby League Season, Southern Cross Switchboards held its inaugural SCS footy tipping competition. There was excellent participation as over 90 of Southern Cross Switchboards clients and contacts entered into the competition. The rules and regulations had everybody on their toes for the first few rounds but once everybody got the hang of it, it was an excellent competition. There were a few tragic supporters that kept supporting their respective teams however some of their respective teams did not come through for them. I was in fact one of them.
The SCS Footy Tipping Comp was a great hit and was enjoyed by all.
We are looking to bring it back bigger and better next so look out for it. We welcome all footy tipping gurus to challenge the winners from this year and take the title of 2014 SCS Footy Tipping Comp Winner. Special thanks goes out to the people involved in administering the competition Emma Caukill and Ron Ryan.
Jay Madhwan
Production Manager